The February  member of the month is Dawn Moore!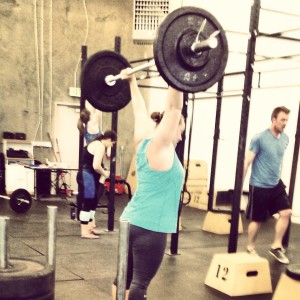 A brief history at Amplified Fitness.

My opportunity to discover Amplified Fitness came as a 31st birthday gift from my husband. I was a little nervous and so excited to work with the personal trainers at the gym.  A year and a half ago I fell in love with the atmosphere and the people and now I can't imagine not going to gym.

The success and struggles you have been through at

 Amplified Fitness.  
I found great success at Amplified Fitness. I have lost weight and gained muscle, but it's more than even that.  I began my journey at roughly 230lbs.  I had a 3 year old who wanted me to climb on the play equipment and sit on the swings and I lived in fear that I would break it, so I always told her no.  I rarely made the first move in meeting new people, I just wanted to blend in and not stand out.  I have lost those fears and tendencies, I have in turn, gained a sense of pride in body and confidence in all aspects of life. It didn't happen over night, and I still have work to do to meet my goals, but I have no doubt that I will find continued success at Amplified Fitness.
How often do you attend sessions at 

Amplified Fitness?
I am usually at gym 4-5 days a week.
Favorite movement? Favorite Workout?
Anything with weights!  Seriously, I love hanging out at the bar with my friends (corny but true).
Least favorite movement? Least favorite workout?
           I struggle with anything body weight and running.  Of course the best way to fix that is more practice!
Current goals?  
                  Double unders, running under a 12 minute mile, negative pull-ups, and rowing 500 meters under 1 minute and 50 seconds.
                                                                                      

What do you like to do for fun?
           For fun, I love going hiking/snowshoeing, traveling, reading and playing with a pretty adorable 4 year old.
Why you keep coming back for more?
 I keep coming back for the way working out makes me feel (amazing, powerful, accomplished, strong, confident) and my amazing gym family who help me along my journey.

                                                      What do you like most about Amplified Fitness?
The people.  Hands down, these are the people I want to go workout with everyday.  Even at 9am in the morning (and I am not a morning person).  It's so awesome to go gym and have such a positive and uplifting group of people who are excited to see you and cheer you on during even the roughest workouts. 

What Would You Tell Someone That Was Considering Joining Amplified Fitness?  
Come in now!  Everyday that you wait or put it off with an excuse, is another day that you are missing out on great new friendships, killer workouts and an amazing sense of confidence. Don't be nervous, just come in and there will be people ready to great you and cheer you on as you learn the ropes.