Decembers member of the Month is Manny!  Congratulations Manny you have been spotlighted by a coach due to your exceptional work ethic and dedication.  We are lucky to have you as a member
A brief history at Amplified Fitness.
Tell us how you got started and your experience.
-On the 21st will be 9 months as a member of Amplified Fitness. I originally came in one Saturday just to try out a class. Because a certain someone kept telling me that I'd like it if I just tried it. Ended up signing up after that first class. I felt like I needed to commit to something, especially if it was to better myself.
The success and struggles you have been through at

 Amplified Fitness?
-A success I've had is how much overall stamina and strength I've gained. And a struggle at first I would say was my eating habits. But after the 9 week challenge it has definitely helped me notice what I put into my body now.
How often do you attend classes at

 Amplified Fitness?
-Besides a select few Saturdays that were closed. I've attended classes every day that there has been a class to go to!
Favorite movement(s)?
-I would have to say that my bench is my favorite movement. Although it's not a very impressive bench I hope to build it up!
Least favorite movement? Least favorite workout?
-My least favorite movement would probably be the strict press. Because it's a struggle not being able to use your legs!! Maybe I should not dsay cause knowing Thomas he'll probably make us do it soon. But my least favorite workout would of course be 99 Problems!
Current goals?
-To pass my goal weight! Now that I'm as close as I am to my goal weight, I'm realizing that I've got a longer way to go..
*Photo Manny and Coach Michele.  Incredible progress!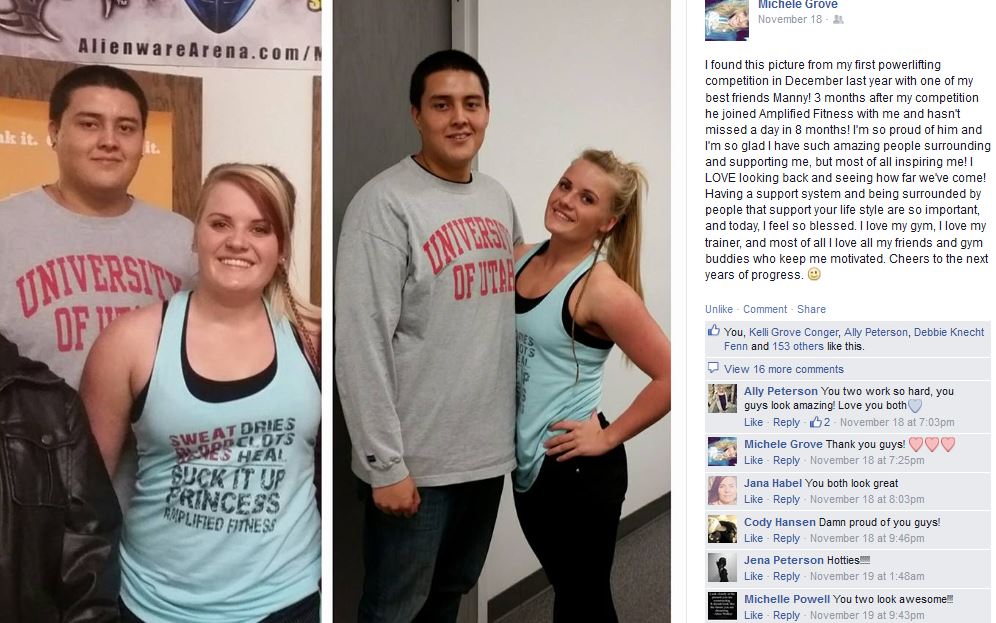 Anything else you want to share about yourself: what you do for fun, what you do for work?
-I would have said the gym but it's not always fun haha I also like to play basketball for fun, go to concerts. And writing music.
-Why you keep coming back for more?
-I keep coming back for more because of the progress I've seen since joining Amplified! Just makes me hungrier to get into the shape I've never been able to get to.
What do you like most about Amplified Fitness?
-The family like atmosphere that brings out a friendly competitiveness in the members that pushes us to progress and do better on a workout. I know there has been plenty of times that I've been trying to keep up with someone and end up beating my last score on a certain workout
What Would You Tell Someone That Was Considering Joining Amplified Fitness?
-It's not going to be easy. But if you are looking to lose weight, build stamina, strength and self esteem. Then you should definitely go see for yourself!