March's Member of the month is Katelyn Prawitt!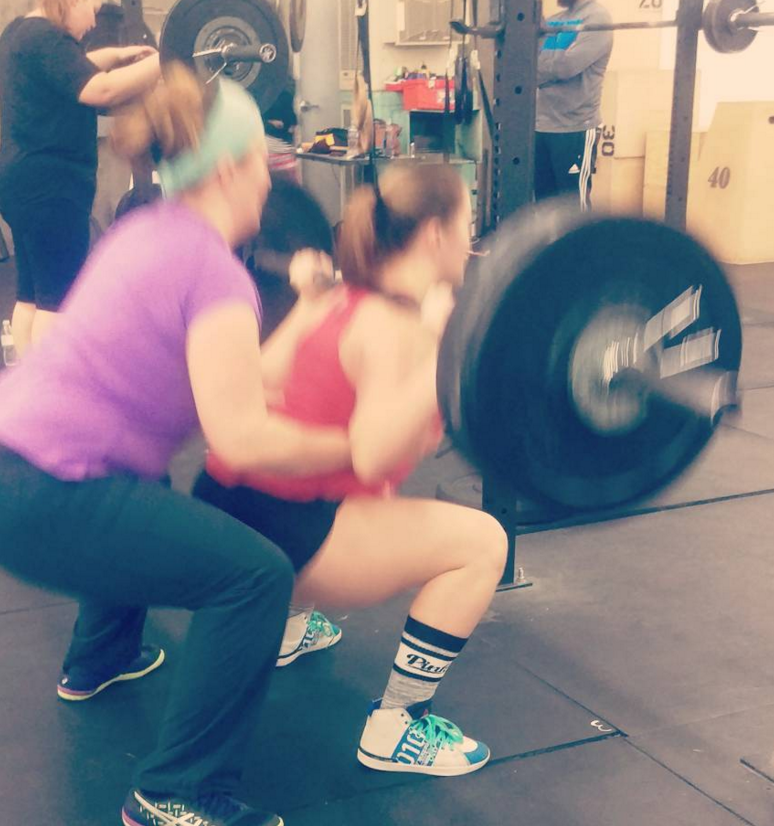 Congratulations Katie on being chosen as member of the month! This means a coach has spotlighted you because they've noticed your incredible work ethic and value to you bring to our community.
A brief history at Amplified Fitness.
I had been following Amplified Fitness and Thomas on Instagram for a few months before reaching out to Thomas. When I finally decided to reach out to Thomas, I was really ready for a positive change in my life and needed lots of extra motivation. He was so quick to set up a consultation and informed me about exactly what to expect with his program. Generally, I like to weigh my pros and cons before committing to big decisions, or in this case, investment. I had been considering Amplified in the back of my mind for a while and after talking with Thomas and considering my goals, I signed up the same night! I knew that Thomas knew what he was talking about and truly had an amazing program. 
The success and struggles you have been through at Amplified Fitness?
I have experienced a few struggles at Amplified. When I first started, it was hard for me to find time to "fit it in" my schedule. When, really, I just wasn't making it a top priority.  After I decided to make my health goals a top priority, making it fit my schedule (even if I have to go at 5:30AM!) became easy.  
All of my personal success I have had at Amplified Fitness can't even be written down. I have become more confident in myself, let go of mental struggles, and gained a strong self-esteem. While the physical changes have been absolutely amazing, I feel most successful because I have gained so much mental strength and the ability to always believe in myself and my abilities. 
How often do you attend sessions at 

Amplified Fitness?
I attend class at Amplified 5-6 times per week. I occasionally have to miss a Saturday session due to work; but, I try to make it 6 days a week, even if I have to go to an open gym session!  
Favorite movement(s)?
Like most people, I love the bench press! I used to struggle with upper body exercises but my strength has increased so much and I love hitting new PRs! I also love squatting! My favorite gym quote: "Squat because nobody raps about little butts"
Least favorite movement? Least favorite workout?
Oh man, this is tough. Deadlifting is a huge struggle for me. But, I don't hate it. When I see deadlifting on Wodify my thoughts usually go like this.. "Oh man……… wish me luck!" But, I haven't failed the deadlift program yet! 
Current goals?
I don't have a weight loss goal as of now but I would love to increase my strength in a lot of areas! I am training for a Spartan race in August and would like to become a better runner and continue to increase the number of pullups I can do! I also need to practice rope climbs. 
 

Anything else you want to share about yourself:

 what you do for fun, what you do for work?
I coach cheer for Bingham High and I love using coaching techniques I observe at Amplified Fitness in my coaching! I also love to go out and dance with my girlfriends, go to concerts and I am pretty much in LOVE with singing karaoke!
-What keeps you keep coming back for more?
I'm pretty obsessed. I love all my gym friends and it's probably pretty clear but I love some friendly competition! I also love that I am constantly challenged. 
What do you like most about Amplified Fitness?
I love that we all hold each other accountable and cheer each other on! I also love that every week I am challenged (and nervous!) and I NEVER feel like something is "easy"! EVER! There's always ways to improve and challenge yourself. I don't feel at all complacent at Amplified Fitness. 
Would you rather do 1 burpee every minute on the minute for 48 hours straight or drag a 100lb sled 20 miles while wearing a Chewbacca costume?
Haha! Drag a 100lb sled for 20 miles while wearing a Chewbacca costume, FOR SURE. Reasons why: burpees are hell and that's 2,880 burpees. No way!! Also, you could complete a 20 mile sled drag in less than 48 hours and I'm super interested in wearing a Chewbacca costume, I love to dress up!
She's not lying when she says she likes to dress up.  Here is Katie dressing up the coach and other member on Christmas.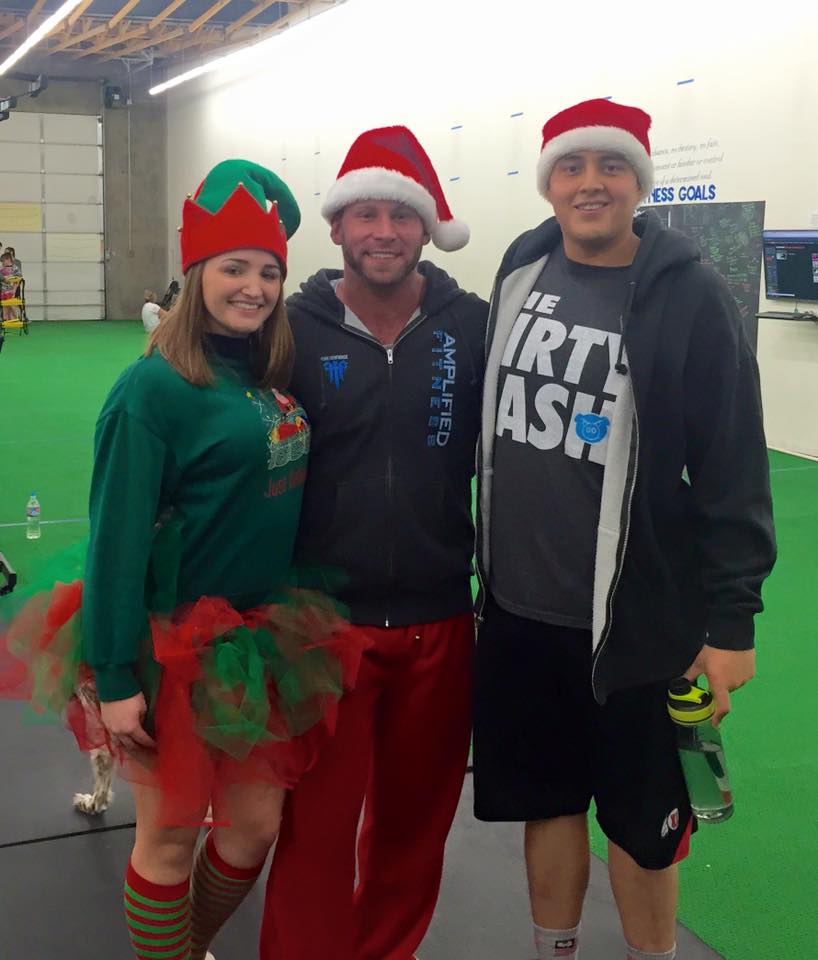 What Would You Tell Someone That Was Considering Joining Amplified Fitness?
DO IT! You really won't regret your investment. Thomas, Michele and Kyle are all so motivating and have really helped move along all my progress. 

Investing in yourself will be your best decision yet. Investing time and energy in something that is constantly improving your mental and physical strength along with gaining knowledge about nutrition and fitness with benefit you endlessly!