Chicken, I eat a lot of it!  Its cheap, filling and packed with protein.  However, it can get repetitive very easily so variety in chicken recipes is really important for many of us.  Here's a unique one thats easy to cook!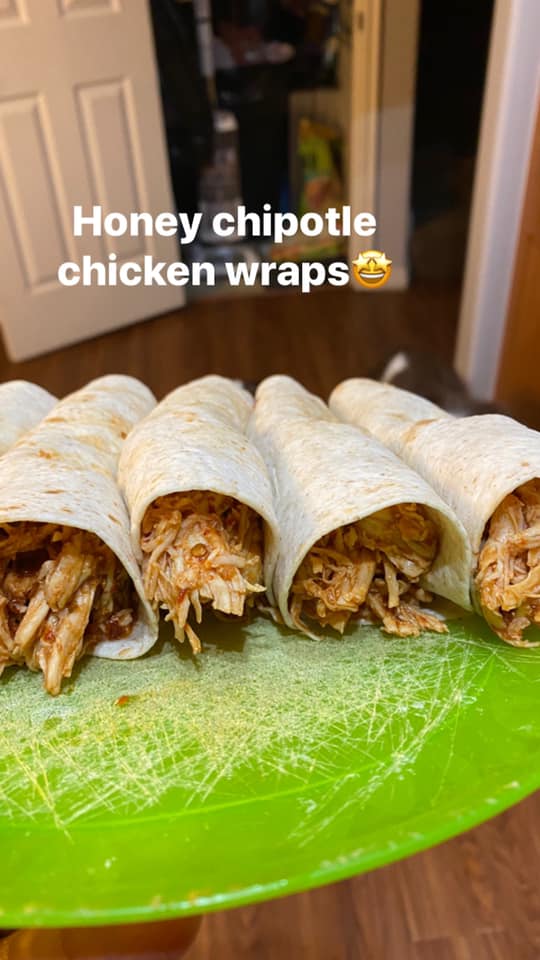 Ingredients:
2lbs Chicken Breast
7 oz(1 can) chipotle pepers in Adobo Sauce.
84 Grams Honey
64 Grams Ketchup
1/4 cup sugar free syrup
Ole Wrap Extreme wellness Wrap.
Instructions
Cook the chicken on low in the crockpot for 2.5 hours.
Shred the chicken
Blend the Chipotle pepper and mix with the Honey and Ketchup.
Mix the wet ingredients with the shredded chicken
Divide the chicken evenly into 5 wraps
Omnomnomnom!  Enjoy 😉
Nutrition info
Per wrap. Calories=276 Protein=36G carb=34G fag=6G
Recipe notes
This recipe gets better if you let it sit in the fridge overnight.
You can make this recipe lower calorie by reducing the honey(I was very generous with the honey), by using reduced sugar ketchup and walden farms 0 calorie syrup. While this recipe is not very spicy if you or someone you are cooking for is sensitive to spice you can reduce the chipotle peppers.